Welcome!
Join us on August 6, 2017
August guests: Monterey International

L-R Erasmo Aiello (cannot join), Mike Marotta Jr., Dave Dally and Steve Hanson

Mike Marotta Jr. (Accordion), a Monterey native, is the third generation of Marottas to entertain Peninsula audiences. For over 45 years he has performed all styles of popular music on accordion and piano with the Marotta Band.

Dave Dally (Violin) is leader of the Monterey String Quartet, Concertmaster of Ensemble Monterey and directs the orchestra at Monterey Peninsula College. He has played with Mike Marotta Jr. for over twenty years.

Makucho will be on percussion and singing for us this performance.

Margie Dally will also be joining the group on her cello.

Steve Hanson, string bass, is also one of the busiest Bay Area musicians. Steve hails from Minnesota, and grew up working the family's dairy farm. Steve enlisted in the United States Navy, and found his way to the Navy Band where he played trombone. He was stationed in Naples, Italy for three years, and learned to speak Italian, and to love Italian food. Steve received his master's degree in music from The University of North Texas. Steve serves on the Board of Directors of The Musician's Union Local 6, San Francisco.

Monterey Intertnational has three CDs: "Italian Favorites Monterey Style," "South of the Border," and "Time to Say Hello" feature Sicilian tenor Erasmo "Orazio" Aiello.

We are very happy to have them back. This will be a real treat!

Please join us to see this fabulous group. You will love them!
---
Silicon Valley Accordion Society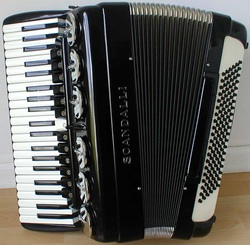 Silicon Valley Accordion Society meetings are held the first Sunday of each month at

Harry's Hofbrau
390 Saratoga Avenue
San Jose, CA 95129
at the corner of Kiely Blvd.
Click this link to see a map:
Map to Harry's Hofbrau
Doors open at 1:00PM, the program begins with members playing their accordions. The door fee for members is $5, $10 for non-members, under 16 - no charge.
We invite you to visit one of our meetings and listen to wonderful performances by our guests. Our members are more than happy to answer any questions you may have about SVAS and how you can join.
We value your feedback; send us your comments and suggestions. By building an effective web site, we hope to get our message out to a larger audience of people interested in the accordion.
Happy squeezing!
Pam Kawashima
Webmaster of SVAS
email: pamk@svasociety.org
---