Welcome!
Join us on May 6, 2018 for a festive afternoon of music, food and fun!
May is the month where we have members bring their accordions or any instrument you can play along with other members or solo. Join us at Harry's Hofbrau, as always, starting at 1:15 pm until 4 pm. NO additional charge for the "picnic."

We will have Mex–style food: build-your-own tacos with fillings of chicken and beef, lettuce, tomato, guacamole, and sour cream, accompanied by Spanish rice and pinto beans. We invite members to bring desserts to share (you always do—many thanks!) We will provide all the plates, etc. Entry prices will be our normal door fees. An amazing deal for gold and platinum members!

​The main music will be performances by the members as solos, and in groups. There will be a "Name That Tune" contest, with wine as prizes.
And, in addition, we will have a "massed accordions" event to celebrate World Accordion Day. We'll be playing "Lady of Spain" and "Beer Barrel Polka" together and PLEASE bring your accordion.
o = o = o = o = o = o = o = o = o = o = o = o = o = o = o = o
​
​(We are posting this on behalf of our fellow accordionist, George Bachich of the Napa County area.)
New Location and name for Vacaville Chapter of the Golden State Accordion Club
Drum roll, please, and mark your calendar for Thursday, May 10. The Vacaville chapter of the Golden State Accordion Club proudly announces its rebirth as the Napa Valley Chapter. Under the capable direction of its dynamic new president George Bachich (ahem, that would be me) the group has moved its meetings to "The Runway", located in the terminal building at the Napa County Airport.

I have never seen a better place for an accordion club meeting. I cannot even imaging a better place. The restaurant manager asked me how I would like them to rearrange the tables and chairs, and I said, "This is perfect as it is!" Wait until you see it. And you will see it on Thursday, May 10, won't you? Mark your calendar now so you won't forget.

Accordion circle starts at 6:30. The surprise program will begin at 7:15. Open mic begins at 8:15. In case you want to eat earlier than 6:30, the room is available anytime you get there. Food service is available until 8:00pm. There is a full bar. There is a stage, a sound system with its own sound man if we ever need it (we don't, because the acoustics are fantastic), and there is even a dance floor. Did I mention seating for 120, with ample space between tables for strolling accordionists? Yet, my little Lo Duca could be heard in all the farthest corners.

Management could not be more accommodating. They are thrilled to have us, and I am thrilled to have found them. This is a match made in heaven. Did I mention that the manager and her staff were grinning from ear to ear and dancing around the room as I tested out the acoustics? Did I mention that this fantastic venue is free? Did I mention that it is perfectly located for members driving from outside of Napa County?

Naturally, they are counting on us to bring them lots of hungry dinner guests, so let's not disappoint them. After all, this has to work financially for them, too, or it can't last. So come on down and join us on Thursday, May 10. Plan to have a great dinner. The menu is online at Therunwaybypatrick.com. Plan to play your accordion, and plan to be entertained.

Since this is the first meeting at this location, I would like to be able to tell the manager how many people are coming to this party, so she can be sure to get us enough servers. So if you are planning to come (of course you are!), please email me with the number in your party at gbachich@accordionrevival.com.

Skip your own chapter meeting if you have to, but don't miss this one. I'll see you at The Runway!

George Bachich
gbachich@accordionrevival.com
Silicon Valley Accordion Society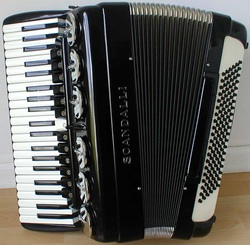 Silicon Valley Accordion Society meetings are held the first Sunday of each month at

Harry's Hofbrau
390 Saratoga Avenue
San Jose, CA 95129
at the corner of Kiely Blvd.
Click this link to see a map:
Map to Harry's Hofbrau
Doors open at 1:00PM, the program begins with a member band of club members playing their accordions. The door fee for members is $5, $10 for non-members, under 16 - no charge.
We invite you to visit one of our meetings and listen to wonderful performances by our guests. Our members are more than happy to answer any questions you may have about SVAS and how you can join.
We value your feedback; send us your comments and suggestions. By building an effective web site, we hope to get our message out to a larger audience of people interested in the accordion.
Happy squeezing!
Pam Kawashima
Webmaster of SVAS
email: pamk@svasociety.org
---